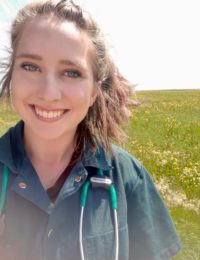 Veterinarian
Cell: 306-529-1301
Email: agardiner@warmanvetservices.ca
Alina was born in 1992 in Woodstock Ontario (the dairy capital of Canada). Alina always knew she wanted to be a veterinarian. Her mother is a nurse and her father was a farmer working in seedcorn research so it seemed to be a perfect blend of both worlds. She grew up on a hobby farm with horses but knew from a young age she wanted to work with cattle after spending time on her aunt's dairy farm in Merlin, Ontario. This passion was fueled when she started shadowing vets at a mixed animal practice in high school. The dairy vet took her under his wing, and from then on, she was hooked. She attended the University of Guelph and received a bachelors' degree in Animal Biology before attending the Ontario Veterinary College for her DVM. Throughout university she filled her summers shadowing veterinarians and working in jobs that would give her more experience in the bovine world. One of her most memorable and intensive experiences was when she worked with Vets without Borders in Kenya to help farmers whose lives depended on the health of their herd. Teaching and facilitating farms to become progressive and proactive became just as important to Alina as the physical herd health component.
After graduation in 2019, Alina knew she wanted to venture west with her partner Matt. Matt was offered a research associate position for BASF in Regina, and Alina was happy to find a thriving dairy industry in Regina and a position with Warman Vet.
Outside of work Alina loves to be outdoors camping, exploring, hiking, or climbing with Matt and their two dogs. Alina will be in the Emerald Park location providing both cattle and pig services. She is excited to be part of the team and looks forward to meeting you and your family's farm.